Infolister Listing (Main)
http://www.mvps.org/dmcritchie/firefox/infolister_listing.htm
Compatibility testing with Firefox version has been disabled from the start of use of Firefox 2 -- see bottom of this page for how it was disabled.
A descriptive Summary of each of the listed extensions can be found as part of my Firefox Customizations (Notes) at (#ext) [http://www.mvps.org/dmcritchie/firefox/firefox.htm#ext]
Quick Summary of my System
Old system -- Dell Inspiron 5000e
Manually entered information for OLD system Dell Inspiron 5000e (laptop), 600MHz, Pentium III, 512MB RAM (max), Windows 2000, Firefox 2.0.0.6. Laptop has a 15" screen (12" x 9"), if using Samsung SyncMaster 205BW (20" TFT-LCD Monitor) at 1024x768 it is a bit distorted.
Adobe Acrobat Reader 6.0.1 NOT AS A PLUGIN (Acrobat Reader 8 is too big for my system, and 7 and 8 don't work for me)
Firefox generated about:plugins list may not be up to date compare to infolister listing below.
New System -- Dell Inspiron 1521
Manually entered information for NEW system (at at least Gecko/20071115 Firefox/2.0.0.10):
Dell® Inspiron® 1521 (laptop) with pre installed Windows® Vista® Basic Home (32 bit), hardware: 1.60 gigahertz, AMD Turion™ 64 X2 Mobil Technology TL-50, 1.87 GB RAM, ATI Radeon XL270, Hard drive is 160 GB (8GB reserved), SATA Hard Drive (5400RPM), Windows NTSF files. Laptop has a 15" screen (13" x 8") using as 1024x768 (various settings up to 1440x900), also using Samsung SyncMaster 205BW (20" TFT-LCD Monitor) at various settings up to 1680 x 1050 (17" x 10.75", and using 1680 x 1050, extended to right) and attached to the new system. Mouse: Microsoft Intellimouse Optical USB and PS/2 compatiblel I have a page on my Vista Installation (onsite), which might save a bit of aggrevation for those just starting on Vista.
Adobe Acrobat Reader 7.0 NOT AS A PLUGIN
Firefox generated about:plugins list may not be up to date compare to infolister listing below.
Internet Access (high speed)
High speed connection, Fiber optic, download 10Mbits/sec, upload 2Mbits/sec, retests after clearing cache.
Tested 2007-11-21 WUGNET - Speed Test 9.72 Mbps download, 1.74 Mbps upload. (retest: 10.2 and 1.79)
Tested 2007-11-21 Speakeasy - Speed Test 10303 kbps download, 1798 kbps upload. (retest: 10342 and 1804)
Generated Document creation information for this listing:
Last updated:
Thu, 17 Apr 2008 18:43:54 GMT on --
User Agent:
Mozilla/5.0 (Windows; U; Windows NT 6.0; en-US; rv:1.8.1.14) Gecko/20080404 Firefox/2.0.0.14
Extensions

(enabled: 79, disabled: 19, total: 98): (#extensions)

There may be other copies/versions of this listing, infolister_listing.htm#extensions, which will show whatever was brought up last. (archived listing Fx2 2.0.0.10 2007-12-03 98/118),
Disabled in above listing(#disabledlist)
Unfortunately InfoLister will not create a disabled only list, so the another table was created at the very end of this page, see no details.

These are 19 extensions I've disabled in 2.0.0.12 on * 2008-02-08
/find bar/, Aardvark, * Autocomplete Manager, * EditCSS, * Extended Cookie Manager, * InspectThis, PermaTabs, Professor X, Project Whois, Quick Sum, RealPlayer Browser Record Plugin, Screen grab!, * searchcache, * ShowIP, SmartSearch, * SnagIt Firefox Extension, Tab Saver!, translator, * View Cookies,
Disabled Extensions (#disabledext)
The following 15 extensions are disabled on 2007-11-22: "About This Site Bookmarks", "Anchorun", "Autocomplete Manager", "iMacros for Firefox", "KGen", "Line Marker", "MeasureIt", "Mouse Gestures", "MultiSidebar", "OPML Support", "Perma Tabs", "RealPlayer Browser Record Plugin", "Server Spy", "TestGen4Web - Script It All".

Somehow all extensions became enabled and was getting an error

and Verizon, Yahoo, Overture were spitting out crap (try these) for 404 (not found) errors. Possibily lost a dns server that I placed before Verizon. To fix this now have to change the modem's settings.
Plugins

(15): (#plugins) for more information use about:plugins
2007 Microsoft Office system
Adobe Acrobat
Ask Toolbar Plugin Stub
HD View
Java(TM) Platform SE 6 U3
Microsoft® Windows Media Player Firefox Plugin
Move Media Player
Mozilla Default Plug-in
RealNetworks Rhapsody Player Engine
RealPlayer Version Plugin
RealPlayer(tm) G2 LiveConnect-Enabled Plug-In (32-bit)
Shockwave Flash
Shockwave for Director
Turner Media Plugin 1.0.0.7
Windows Genuine Advantage
Plugins for Firefox (#plugins_ff)
Plugins :: Firefox Add-ons, Plugins help your browser perform specific functions like viewing special graphic formats or playing multimedia files. Plugins are slightly different from extensions, which modify or add to existing functionality.

Obtained the following from the above.
Windows Media Player, by Microsoft
Other Sites using Infolister -- Examples(#otherexamples)
Use a Google search on: infolister "my firefox information" to see what others show for their Infolister lisitng.
http://www.google.com/search?q=my-firefox-information+infolister&as_qdr=m3
Script Busy (#scriptbusy) On titlebar (Not Responding), also seen as Unresponsive Script, or screen whiteout.
Something to test after adding/enabling an Extension: Ctrl+A (select all) followed by right-click to bring up context menu. Big problem if instead of context menu you get "A script on this page may be busy, or it may have stopped responding. You can stop the script now, or you can continue to see if the script will complete [Stop Script] [Continue]". These extensions are a problem: on my machine (600MHz) and have been disabled or uninstalled:
Line Marker, Firefox 1.0 - 1.5.0.* ALL (2.0.2006072201)
Quick Sum (0.1), presumably good for Firefox 2.0
Translate (0.6.0.9), Firefox 0.9 - 1.5.0.* ALL
gTranslate (0.3.1) [30KB], Firefox 1.0 - 2.0.0.* ALL
Preferences (#preferences)
Modifications in addition to extensions can be seen in the following files as they would appear in my profile:
More profile and about:... information (#about)
Template (#template)
This listing was created by the Infolister Extension, and shows the Extensions, and Plug-ins that I have chosen. You can learn more about my choice of extensions at my Firefox Customizations (notes) webpage.

The customized template used to create this page can be found at http://www.mvps.org/dmcritchie/firefox/infolister_template.txt and you can create your own template if you want something different than the default listing see InfoLister Help: Templates syntax [http://mozilla.doslash.org/infolister/templates/]
Enhancements to Infolister that would be appreciated
maxVersion had been included for the next InfoLister extension update (after 0.9f) to be able to show the maximum Firefox version that the Extension will run on, which should help in planning with upgrading to a major Firefox version. Never got the update text to be include later [%minVersion% - %maxVersion%].
user update date (timestamp) so can see latest changes made (the "Extension Manager Extended" displays this information) which is actually for date installed or updated by user which would be critical to finding a problem extension. If available would put in same cell as author and before the author so table can be sorted -- needs to be yyyy-mm-dd hh:mm so can be sorted.
HTML tables can be sorted with the "Sort Table" bookmarklet.
Be able to find and list the extensions icon, even though would only be seen locally and not on a listing shared on the web.
Don't really see how these are packaged, the addons list seems to be able to find them okay. Meanwhile found some by searching on "/skin/" or "16.png" or "24.png" or "32.png".
To see a chrome link, it must be copied to the location bar, as they can't be used directly as links. If the chrome link is entered as a link, you can use the linky extension to help with manually opening the link. The images can be seen as images locally.
Example: chrome://copyurlplus/skin/copyurlplus16.png
and iconURL – chrome://copyurlplus/skin/copyurlplus32.png
,
chrome://copyurlplus/content/about.xul
Example: chrome://infolister/skin/toolbar16x16.png
– chrome://infolister/skin/toolbar24x24.png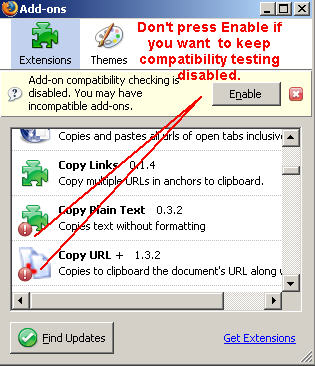 ►Compatibility Testing Disabled: (#compatibilitydisabled) extensions.checkCompatibility set to False in about:config
More information: Forcing Extensions by creating extensions.checkCompatibility and setting to False. You are using Disable so don't toggle Enable which refers to overriding ALL deprecated extensions not specific to anything selected. Those that have been forced are marked with an exclamation point ( ! ) on their icon, but there is no indication on the InfoLister listing (this listing).
Updating extensions - MozillaZine Knowledge Base, You can configure Firefox and TB to update your extensions and themes automatically, and you can even disable/prevent auto-update for individual extensions.

Unable to install themes or extensions - Firefox - MozillaZine Knowledge Base
Firefox 3 Secure Extension Updating: Extensions can be installed from AMO and from secured sites without a problem. In order to test from another source set extensions.checkUpdateSecurity to False (see bug: 378216). for more information see Unable_to_install_themes_or_extensions_-_Firefox and additional references of interest (that might get removed from the article): Extension Versioning, Update and Compatibility - MDC, Updating extensions for Firefox 3 - MDC, Firefox 3 for developers - MDC
A recent problem with addons.mozilla.org and Nightlies is that you can't install an extension that you don't already have if the maxVersion is insufficient. The bypass for now is to access the "Complete Version History" link which is hidden under the collapsed "Advanced Details" section on the add-on details page (e.g. see https://addons.mozilla.org/en-US/firefox/addon/1865) that takes you to the Version History page which will let you download all known versions of an add-on independent of the version of your browser. [Basil Hashem 2008-04-01]
Bookmarklets (#bookmarklets)
You can make the links on this page visible by installing the "HREF Visible" bookmarklet, which I tried to include here but it would not make it through the template code in usable condition. Go to the link and drag the named bookmarklet to your bookmarks bar to install it -- you can also give the installed bookmarklet a keyword of "href:" to provide another means of accessing it. Would also recommend installing and using the "Paren Tips" bookmarklet.

This list could be improved with a SCRIPT function within the template or with a change to InfoLister so that the TITLE would return doubled quotes (&quote;&quote;) within so that title="%description%" would properly process embedded quotes. Using title='%description%' won't work either because some descriptions contain single quotes (Menu's). Could also be needed to process ampersands within homepageURL

Listing pre Firefox 2 (Fx 1.5.0.7) here
List of extensions without details (#nodetails)
To make line comparisons of source code easier with the "PageDiff" extension using "Start Diff" and "Show Diff"


User Agent:

Mozilla/5.0 (Windows; U; Windows NT 6.0; en-US; rv:1.8.1.14) Gecko/20080404 Firefox/2.0.0.14

Last updated:

Thu, 17 Apr 2008 18:43:54 GMT on --

enabled: 79, disabled: 19, total: 98

List of Extensions

 /Find Bar/, [disabled] 
 Aardvark, [disabled] 
 Adblock,  
 Add to Search Bar,  
 Autocomplete Manager, [disabled] 
 Autohide,  
 Bookmark Sorting,  
 Cache View,  
 CacheViewer,  
 Chrome List,  
 ColorZilla,  
 Context Search,  
 Copy All Urls,  
 Copy Links,  
 Copy URL +,  
 CSSViewer,  
 CustomizeGoogle,  
 DictionarySearch,  
 Document Map,  
 Duplicate Tab,  
 EditCSS, [disabled] 
 Enhanced Bookmark Search,  
 Extended Cookie Manager, [disabled] 
 Extended Copy Menu,  
 Extended Link Properties,  
 Extension Manager Extended,  
 Firefox Search Sidebar,  
 FormFox,  
 Gmail Space,  
 Grab and Drag,  
 Greasemonkey,  
 HistProp,  
 How'd I Get Here,  
 Image Zoom,  
 InfoLister,  
 InspectThis, [disabled] 
 Java Console,  
 keyconfig,  
 KeywordBar,  
 Launchy,  
 LinkChecker,  
 Linkification,  
 LinkVisitor,  
 Linky,  
 Locate in Bookmark Folders,  
 Location Navigator,  
 Longdesc,  
 McAfee SiteAdvisor,  
 Menu Editor,  
 MetaTags,  
 Minimap Sidebar Extension,  
 MouseZoom,  
 NextPlease,  
 Nightly Tester Tools,  
 No-Referer, [disabled] 
 Open Long Url,  
 Open Profile Folder,  
 OpenBook,  
 PageDiff,  
 PermaTabs, [disabled] 
 Platypus,  
 Popbook,  
 Professor X, [disabled] 
 Project Whois, [disabled] 
 Quick Sum, [disabled] 
 QuickRestart,  
 Read Easily,  
 Redirect Remover,  
 Regular Expressions Tester,  
 Remove Cookie(s) for Site,  
 repagination,  
 Research Word,  
 Resizeable Form Fields,  
 Sage,  
 Screen grab!, [disabled] 
 searchcache, [disabled] 
 ShowIP, [disabled] 
 SmartSearch, [disabled] 
 SnagIt Firefox Extension, [disabled] 
 Sort Bookmarks,  
 Split Browser,  
 Tab Counter,  
 Tab History,  
 Tab Saver!, [disabled] 
 TableTools,  
 Throbber Button,  
 Toggle Word Wrap,  
 translator, [disabled] 
 UnHide fields,  
 UrlParams,  
 Video Download,  
 View Cookies, [disabled] 
 View formatted source,  
 View Source Chart,  
 Web Developer,  
 Wikalong,  
 Word Count,  
 Work Offline,