Infolister Listing (Main)
http://www.mvps.org/dmcritchie/firefox/infolister_listing.htm
Compatibility testing with Firefox version has been disabled from the start of use of Firefox 2 -- see bottom of this page for how it was disabled.
A descriptive Summary of each of the listed extensions can be found as part of my Firefox Customizations (Notes) at (#ext) [http://www.mvps.org/dmcritchie/firefox/firefox.htm#ext]
Quick Summary of my System
Old system -- Dell Inspiron 5000e
Manually entered information for OLD system Dell Inspiron 5000e (laptop), 600MHz, Pentium III, 512MB RAM (max) was upgraded from 128MB, Windows 2000, Firefox 2.0.0.6. 40 GB HD, originally had 10GB HD. Laptop has a 15" screen (12" x 9"), if using Samsung SyncMaster 205BW (20" TFT-LCD Monitor) at 1024x768 it is a bit distorted.
New System -- Dell Inspiron 1521
Manually entered information for NEW system purchased Aug 2007 (currently using Firefox 3.0.11 and/or above):
Dell® Inspiron® 1521 (laptop) with pre installed Windows® Vista® Basic Home (32 bit), hardware: 1.60 gigahertz, AMD Turion™ 64 X2 Mobil Technology TL-50, 1.87 GB RAM, ATI Radeon XL270, Hard drive is 160 GB (8GB reserved), SATA Hard Drive (5400RPM), Windows NTSF files. Paging file is 2871MB.

Laptop has a 15" screen (13" x 8") using as 1280x720 or 1024x768 (various settings up to 1440x900), also using Samsung SyncMaster 205BW (20" TFT-LCD Monitor) at various settings up to 1680 x 1050 (17" x 10.75", and using either 1280 x 1024, or 1680 x 1050, extended to right) and attached to the new system. Mouse: Microsoft Intellimouse Optical USB and PS/2 compatable (and also use a Microsoft Wireless Notebook Presenter Mouse 8000) I have a page on my Vista Installation (onsite), which might save a bit of aggrevation for those just starting on Vista.
Adobe Acrobat Reader 7.0 NOT AS A PLUGIN
Firefox generated about:plugins list may not be up to date compare to infolister listing below.
Internet Access (high speed)
High speed connection, Fiber optic, download 10Mbits/sec, upload 2Mbits/sec, retests after clearing cache.
Tested 2007-11-21 WUGNET - Speed Test 9.72 Mbps download, 1.74 Mbps upload. (retest: 10.2 and 1.79)
Tested 2007-11-21 Speakeasy - Speed Test 10303 kbps download, 1798 kbps upload. (retest: 10342 and 1804)
Extensions

(enabled: 91, disabled: 6, total: 97): (#extensions)
Generated Document creation information for this listing: (#useragent-info)
Last updated:
Tue, 15 Dec 2009 13:01:08 GMT on --
User Agent:
Mozilla/5.0 (Windows; U; Windows NT 6.0; en-US; rv:1.9.1.7pre) Gecko/20091212 Shiretoko/3.5.7pre (.NET CLR 3.5.30729)
There may be other copies/versions of this listing, infolister_listing.htm#extensions, which will show whatever was brought up last. (archived listing Fx2 2.0.0.10 2007-12-03 98/118),
The url name are created when the corresponding profile is brought up and are named through the profile about:config variable "extensions.infolister.file", all use the same template which is named in the add-on options for infolister.
Mouseover Link for ID, or use the bookmarklets Paren_Tips to display all descriptions, and/or href: to display urls within listing. Wish that InfoLister provided a compatibility text indicator like exclamation point shown in Tools, Addons, Extensions.
Extensions
Extension
Version
Author
Description -- see my site for more complete information
Aardvark
2.97
Rob Brown
Utility for cleaning up a page prior to printing, and for analyzing a page.
Adblock
0.5.3.043
The Adblock Crew
[disabled]
Filters ads from web-pages
Add to Search Bar
1.8
Malte Kraus
Add any search on any page to the Search Bar.
Addictive Typing Lessons
3.0
Tom Kennedy
[disabled]
Learn touch typing. Click the icon in the status bar to run it.
Autohide
1.2
Jochen
Tweaks for Full Screen. Eala Frya Fresena!
Cache View
1.61
Steve Janovitz
Displays a cache via right-click or Tools menu.
CacheViewer
0.6
The Tiny BENKI
Allows searching and sorting cache files
Chrome List
0.4.1
Gijs Kruitbosch
Lets you take a peek at the files under the hood of your application and add-ons.
ColorZilla
2.0.2.1
Alex Sirota
Advanced Eyedropper, ColorPicker, Page Zoomer and other colorful goodies
Context Highlight
0.3.2
Ben Basson
Lets you highlight words on the page via the context menu.
Copy All Urls
0.9.0
Juergen R. Plasser
Copies and pastes all urls of open tabs inclusive history in structured and well defined form to and from the clipboard.
Copy Links
0.1.6
Kai-Chieh Ku (kjackie@gmail.com)
Copy multiple URLs in anchors to clipboard.
Copy URL +
1.3.2
Philip Mateescu
Copies to clipboard the document's URL along with the title or the selected text.
CSSViewer
1.0.3
Nicolas Huon
A simple CSS property viewer
CustomizeGoogle
0.76
info@customizegoogle.com
Enhance Google search results and remove ads and spam.
Dafizilla Table2Clipboard
1.2
Davide Ficano
Allow to copy to clipboard the selected rows/columns from an HTML table
DictionarySearch
3.6.1
Jaap Haitsma
Looks up selected word in an online dictionary
Document Map
0.6.1
jgraham
Displays the current page's heading structure in the sidebar, allowing rapid navigation between sections
DOM Inspector
2.0.4
mozilla.org
Inspects the structure and properties of a window and its contents.
Duplicate Tab
1.0.2
Twanno
Allows you to duplicate a tab, or to merge the windows.
EditCSS
0.3.7
Pascal Guimier
Stylesheet modifier in the Sidebar.
Extended Cookie Manager
0.9
Sven Jost
Change the cookie status for websites on demand.
Extended Copy Menu
1.6
Ryan Cook
Provides the option to copy selection as plain text or html.
Extended Link Properties
1.2.4
Torisugari
This application extends the Link Properties and shows File Size/Last Modified Date/Content Type of a link target.
Extension Manager Extended
2.8.1
Paul Spangler
Use the extension manager to view the id and the folder of an extension.
Firefox Search Sidebar
1.2
The Search Sidebar Project
Enjoy searching through multiple search engines with one query, and managing search plugins through one interface.
FormFox
1.6.3
Daniel W. Steinbrook
Pops up form action when submit button is about to be clicked.
Gmail Space
0.5.991
Rahul Jonna
Use your Gmail account space for file storage. Enables uploading/downloading of folders.
Go Parent Folder
2.1
Alice0775
Go Parent Folder In Library
Grab and Drag
2.7.6
Ian Weiner
Enables Adobe Acrobat-style grab and drag scrolling in Mozilla applications.
Greasemonkey
0.8.20091209.4
Aaron Boodman; http://youngpup.net/
A User Script Manager for Firefox
HistProp
0.2.3.5
Andrew O. Shadoura
Adds a Properties item to the browser's History viewer context menu
How'd I Get Here
0.1.2
Jesse Ruderman
[disabled]
Helps you remember how you first discovered a site.
Image Zoom
0.3.1
Jason Adams
Adds zoom functionality for images
In The News
0.0.2
Kurt Wilms
Highlight text in Firefox, right-click to see the latest related news stories.
InfoLister
0.10.1
Nickolay Ponomarev
Lists installed extensions and themes
InspectorWidget
2.11.20090429
Patrick Thompson
Adds button and context menus for DOMi
InspectThis
0.9.1
Laurens Mackay
Inspect the current element with the DOM Inspector.
keyconfig
20060828.1
Dorando
Rebind your keys.
keywordManager
0.7.2
Régis Caspar
Small tool to manage bookmarks keywords
Launchy
4.2.0
Henrik Gemal
Open links and mailto's with external applications like Internet Explorer, Netscape, Opera, Outlook etc
Line Marker
2.0.2009110201
Adds a new menu "Line Marker" to the context menu. It changes color of selection.
LinkChecker
0.6.3
Kevin Freitas
Check the validity of links on any webpage.
Linkification
1.3.7
y5
Converts text links into genuine, clickable links.
LinkVisitor
3.3
KMilburn. Updated for Firefox 3.0 and 3.1.
Mark link(s) as visited or unvisited.
Linky
2.7.1
Henrik Gemal
Open/download/validate links and pictures in tabs or windows
Location Navigator
0.6.2
Richard Klein
An extension that lets you increment/decrement a portion of a location.
Longdesc
0.6
Patrick H. Lauke aka redux
Makes an image's longdesc link attribute accessible via context menu.
Manage Folders
1.0.2
Jed Brown
Adds a "Manage Folder" item to the context-menu of bookmark folders
mediaplayerconnectivity
0.9.2
Sethnakht
Open video stream directly in an external Video Player
Menu Editor
1.2.6
Devon Jensen
Customize application menus
Microsoft .NET Framework Assistant
1.1
Microsoft
Adds ClickOnce support and the ability to report installed .NET Framework versions to the web server.
MouseZoom
0.4.6
Konstantin Meyer
Zoom with the mouse.
Multiple Tab Handler
0.5.2009110501
SHIMODA Hiroshi
Provides features to close (, reload, etc.) multiple tabs at once.
New Tab Button
1.0.9
CatThief
Restores the Firefox 3.0 New Tab toolbar button.
NextPlease
0.6.6
Howie Wang
Navigate next/prev search results with the press of a key.
Nightly Tester Tools
2.0.2
Mossop
Useful tools for the nightly tester.
oldbar
1.2
Seth Spitzer
URL bar uses Firefox 2 style results
Open Long Url
0.2.3
Jeremy Gillick
Adds an option to your File menu to allow you to open long, multiline, urls.
Open Profile Folder
1.3.2
Kyo Nagashima
Open current profile folder from "Tools" menu or toolbar button.
OpenBook
2.0.1.1
chuonthis
Allows for customization of the Add Bookmark dialog
PageDiff
1.4
Abdul Khadir
A simple page diff application.
PermaTabs Mod
1.8.2
Done Smart Ltd - Mod for FF3 by deos
Create non-closable tabs that stick around between sessions - modified to work in Firefox 3
Platypus
0.81
Scott R. Turner
Dynamically create GreaseMonkey scripts.
Prefsearch
0.1
Eric Hamiter
[disabled]
Research the preferences listed in about:config via Google.
QuickRestart
1.1.5
Juan C. Avila
Adds a "Restart Firefox" item to the "File" menu.
QuoteURLText
1.0.9b
Jay Palat
Read Easily
1.0.3
Aliaksandr Radzivanovich
Fast page style switcher. It adds toolbar button, context menu item and hotkey (CTRL+SHIFT+Z) to disable/enable styles on web pages.
Redirect Remover
2.5.5
xeen
Removes Redirects from Links and Images
Regular Expressions Tester
1.1.6.13
Sebastian Zartner
Tool for testing regular expressions
Remove Cookie(s) for Site
0.52
Dwipal Desai
Adds right-click menu option and toolbar button to remove all the cookies of currently opened site.
repagination
2006.4.5
383, modified by Lev
Right click "next" or "previous" or "2" link and flatten all results to one page. Ex. Search Results Page. There is also a slide show option.
Research Word
1.3.6
Scott A.
Quickly lookup a word or phrase simply from the Context Menu on selected text or via Address Bar shortcuts.
Resizeable Textarea
0.1d
Raik Juergens
Resize textareas to your needs.
Save Complete
1.0.1
perl.programmer@gmail.com
Saves a complete webpage correctly
Screengrab
0.96.2
Andy Mutton
Saves a web-page as an image.
Show Parent Folder
1.6
Alice0775
Show Parent Folder
SortPlaces
1.6.6
Andy Halford
Sorts your bookmarks
SpellCheck
0.3
Laurent Goderre
Spell checker for HTML pages
Split Browser
0.6.2009110501
SHIMODA Hiroshi
Splits browser window as you like.
SQLite Manager
0.5.6.1
Mrinal Kant
Manage any SQLite database on your computer
Stylish
1.0.7
Jason Barnabe (np)
Restyle the web with Stylish, a user styles manager.
Stylish-Custom
0.5.9
ChoGGi
Tab Clicking Options
0.6.9
Twanno
Assign tab related actions to clicking events on a tab or the tabbar
Tab Counter
1.8.4
Michael Kraft
Counts the number of open tabs
Tab History To Tabs
0.1
Twanno
Opens the history into new tabs.
TableTools
0.27
Mingyi Liu
Sort, filter or copy any table ('ctrl+alt+click' sorts, 'ctrl+shift+click' shows filter, 'ctrl-z-click' etc. allows copying in various formats).
Throbber Button
1.1
Aaron Pauls
[disabled]
Enables usage of the throbber as a link
Toggle Word Wrap
1.4
Kaspar Brand
Toggle word wrapping in Thunderbird (Composer window) or Firefox (

 elements)

UrlParams
2.2.0
Erik Schmidt
Displays GET/POST parameters in the sidebar.
userChrome.js
0.8
zeniko
Dynamic customization for when an extension would be overkill.
Video Download
2.0
Piraton
Download videos from Youtube, Google Video, Pornotube, Grinvi... and meny other sites.
View Dependencies
0.3.3.0
Florian QUEZE
Adds a tab listing dependencies and their sizes in the Page Info window.
View formatted source
0.9.5.0
Felix Ritter
View formatted and rendered source code
Web Developer
1.1.8
Chris Pederick
Adds a menu and a toolbar with various web developer tools.
Wikalong
0.82
John Cappiello
[disabled]
A wiki-margin for your browser
Work Offline
1.5
Motohiko
Adds an icon to indicate and switch online/offline mode on the status bar.

The descriptions provided above come from the "

Infolister

" extension as provided by each extension's own author, for more complete descriptions and notes on my usage of these extensions see my

Extensions Table

on my Firefox Customizations page. Firefox

generated about:plugins list

may not be up to date compare to infolister listing below.

Important notice: www.extensionsmirror.nl site has been changed to forum.addonsmirror.nl and many old extensions have not been updated internally, but you will find most of them at new site and also on addons.mozilla.org or as projects at mozdev.org [2007-04-13][2008-05-12]
Example: http://www.extensionsmirror.nl/index.php?showtopic=2796 must be changed to http://forum.addonsmirror.net/index.php?showtopic=2796
You can compare older and newer versions of the table by pasting into a before and after text areas online with Quick Diff Online Tool, an Online Tool to do a 'quick and dirty' diff of two text or code fragments.

AVG Safe Search, see directions to uninstall by removing the LinkScanner component, which does not work in Fx2 or in Fx3 so was added to AVG anti-virus very prematurely (April/May 2008).
Disabled in above listing (#disabledlist)
Unfortunately InfoLister will not create a disabled only list, so the another table was created at the very end of this page, see no details.

These are 19 extensions I've disabled in 2.0.0.12 on * 2008-02-08
/find bar/, Aardvark, * Autocomplete Manager, * EditCSS, * Extended Cookie Manager, * InspectThis, PermaTabs, Professor X, Project Whois, Quick Sum, RealPlayer Browser Record Plugin, Screen grab!, * searchcache, * ShowIP, SmartSearch, * SnagIt Firefox Extension, Tab Saver!, translator, * View Cookies,
Disabled Extensions (#disabledext)
The following 15 extensions are disabled on 2007-11-22: "About This Site Bookmarks", "Anchorun", "Autocomplete Manager", "iMacros for Firefox", "KGen", "Line Marker", "MeasureIt", "Mouse Gestures", "MultiSidebar", "OPML Support", "Perma Tabs", "RealPlayer Browser Record Plugin", "Server Spy", "TestGen4Web - Script It All".

Somehow all extensions became enabled and was getting an error

and Verizon, Yahoo, Overture were spitting out crap (try these) for 404 (not found) errors. Possibily lost a dns server that I placed before Verizon. To fix this now have to change the modem's settings.
Themes

(1): (#themes)
Default 3.5.7pre [selected] (Mozilla)
Plugins

(14): (#plugins) for more information use about:plugins
Adobe Acrobat
Google Earth Plugin
Google Update
HD View
Java(TM) Platform SE 6 U12
Java(TM) Platform SE 6 U17
Microsoft Office Live Plug-in for Firefox
Move Media Player
Mozilla Default Plug-in
NPCIG.dll
RealNetworks Rhapsody Player Engine
Shockwave Flash
Silverlight Plug-In
Windows Live® Photo Gallery
Additional items of interest concerning plugins:
Plugins for Firefox (#plugins_ff)
Plugins :: Firefox Add-ons, Plugins help your browser perform specific functions like viewing special graphic formats or playing multimedia files. Plugins are slightly different from extensions, which modify or add to existing functionality.

Obtained the following from the above.
Windows Media Player, by Microsoft
Other Sites using Infolister -- Examples (#otherexamples)
Use a Google search on: infolister "my firefox information" to see what others show for their Infolister lisitng.
http://www.google.com/search?q=my-firefox-information+infolister&as_qdr=m3

Some similar listings
Script Busy (#scriptbusy) On titlebar (Not Responding), also seen as Unresponsive Script, or screen whiteout.
Something to test after adding/enabling an Extension: Ctrl+A (select all) followed by right-click to bring up context menu. Big problem if instead of context menu you get "A script on this page may be busy, or it may have stopped responding. You can stop the script now, or you can continue to see if the script will complete [Stop Script] [Continue]". These extensions are a problem: on my machine (600MHz) and have been disabled or uninstalled:
Line Marker, Firefox 1.0 - 1.5.0.* ALL (2.0.2006072201)
Quick Sum (0.1), presumably good for Firefox 2.0
Translate (0.6.0.9), Firefox 0.9 - 1.5.0.* ALL
gTranslate (0.3.1) [30KB], Firefox 1.0 - 2.0.0.* ALL
Preferences (#preferences)
Modifications in addition to extensions can be seen in the following files as they would appear in my profile:
More profile and about:... information (#about)
Template (#template)
This listing was created by the Infolister Extension, and shows the Extensions, and Plug-ins that I have chosen. You can learn more about my choice of extensions at my Firefox Customizations (notes) webpage.

The customized template used to create this page can be found at http://www.mvps.org/dmcritchie/firefox/infolister_template.txt and you can create your own template if you want something different than the default listing see InfoLister Help: Templates syntax [http://mozilla.doslash.org/infolister/templates/]
Enhancements to Infolister that would be appreciated
maxVersion had been included for the next InfoLister extension update (after 0.9f) to be able to show the maximum Firefox version that the Extension will run on, which should help in planning with upgrading to a major Firefox version. Never got the update text to be include later [%minVersion% - %maxVersion%]. Did find a comment though possibly with needed code.
user update date (timestamp) so can see latest changes made (the "Extension Manager Extended" displays this information) which is actually for date installed or updated by user which would be critical to finding a problem extension. If available would put in same cell as author and before the author so table can be sorted -- needs to be yyyy-mm-dd hh:mm so can be sorted.
HTML tables can be sorted with the "Sort Table" bookmarklet.
Be able to find and list the extensions icon, even though would only be seen locally and not on a listing shared on the web.
Don't really see how these are packaged, the addons list seems to be able to find them okay. Meanwhile found some by searching on "/skin/" or "16.png" or "24.png" or "32.png".
To see a chrome link, it must be copied to the location bar, as they can't be used directly as links. If the chrome link is entered as a link, you can use the linky extension to help with manually opening the link. The images can be seen as images locally.
Example: chrome://copyurlplus/skin/copyurlplus16.png
and iconURL – chrome://copyurlplus/skin/copyurlplus32.png
,
chrome://copyurlplus/content/about.xul
Example: chrome://infolister/skin/toolbar16x16.png
– chrome://infolister/skin/toolbar24x24.png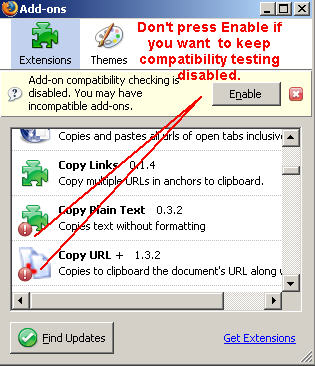 ►Compatibility Testing Disabled: (#compatibilitydisabled)
Caution: using incompatible extensions may increase your incidences of crashes or other malfunctions. If you are testing Firefox Beta software then you are already assuming additional risk, and would not be able to test extensions without turning off extension compatibility testing. As far as a warranty is concerned there is none anyway no matter how you use Firefox, or Beta, or extensions, or configuration changes from any location. [Legal, EULA, TOS]
extensions.checkCompatibility set to False in about:config
More information: Forcing Extensions by creating extensions.checkCompatibility and setting to False. You are using Disable so don't toggle Enable which refers to overriding ALL deprecated extensions not specific to anything selected. Those that have been forced are marked with an exclamation point ( ! ) on their icon, but there is no indication on the InfoLister listing (this listing).
extensions.checkCompatibility.3.6b False
is required for 3.6b (betas) and the practice will continue unless unstopped into later versions as well. References ref and Updating extensions - MozillaZine Knowledge Base, You can configure Firefox and TB to update your extensions and themes automatically, and you can even disable/prevent auto-update for individual extensions.

Unable to install themes or extensions - Firefox - MozillaZine Knowledge Base
user_pref("browser.tabs.closeButtons", 3);
user_pref("extensions.checkCompatibility", false);
user_pref("extensions.checkUpdateSecurity", false);
user_pref("general.warnOnAboutConfig", false);

Firefox 3 Secure Extension Updating: Extensions can be installed from AMO and from secured sites without a problem. In order to test from another source set extensions.checkUpdateSecurity to False (see bug: 378216). for more information see Unable_to_install_themes_or_extensions_-_Firefox and additional references of interest (that might get removed from the article): Extension Versioning, Update and Compatibility - MDC, Updating extensions for Firefox 3 - MDC, Firefox 3 for developers - MDC
A recent problem with addons.mozilla.org is that you can't install an extension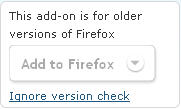 that you don't already have if the maxVersion is insufficient, and you will see a grayed out install button. You must login to addons.mozilla.org using the login link in upper right corner, after you have logged in you will see the words "ignore version check" added to the grayed out button, click on those words and then the button will be green, and the next step is to click on the "Install Now".
If you then get a message like "Launchy 4.2.0 could not be installed because it is not compatible with Firefox 3.0.", it is because you have not set extensions.checkCompatibility (as Boolean) to False as a new Boolean variable in about:config. Next comes up the idiotic "This might void your warranty!", written by idiots for idiots -- you know what to reply to that, but first don't forget to uncheck the box.
Another way and this does not require a log-in is to access the "See All Versions" (Complete Version History) link on the add-on details page (e.g. see https://addons.mozilla.org/en-US/firefox/addon/1865) that takes you to the Version History page which will let you download all known versions of an add-on independent of the version of your browser. [Basil Hashem 2008-04-01]
In an Absolutely Unacceptable and IRRESPONSIBLE behavior Firefox developers decided you must install so-called incompatible extensions with "Nightly Tester" tools and that it will destroy the red exclamation points that indicated version incompatibility. This is the one indication that you had as a tattle tale (warning) that you have overridden compatibility and may cause problems later, and that you might be advised to look for a more current version that may not directly update. So if I already had it I can have the red warning exclamation point, but if I install a new profile, or help someone else, I can't. This is absolutely insane.
Bookmarklets (#bookmarklets)
You can make the links on this page visible by installing the "HREF Visible" bookmarklet, which I tried to include here but it would not make it through the template code in usable condition. Go to the link and drag the named bookmarklet to your bookmarks bar to install it -- you can also give the installed bookmarklet a keyword of "href:" to provide another means of accessing it. Would also recommend installing and using the "Paren Tips" bookmarklet.

This list could be improved with a SCRIPT function within the template or with a change to InfoLister so that the TITLE would return doubled quotes (&quote;&quote;) within so that title="%description%" would properly process embedded quotes. Using title='%description%' won't work either because some descriptions contain single quotes (Menu's). Could also be needed to process ampersands within homepageURL

Previous listings can be compared with current using "ShowDiff" extension.
Listing pre Firefox 2 (Fx 1.5.0.7) here
Listing pre Firefox 3.5 (Fx 2.0.0.14) here
List of extensions without details (#nodetails)
To make line comparisons of source code easier with the "PageDiff" extension using "Start Diff" and "Show Diff"


User Agent:

Mozilla/5.0 (Windows; U; Windows NT 6.0; en-US; rv:1.9.1.7pre) Gecko/20091212 Shiretoko/3.5.7pre (.NET CLR 3.5.30729)

Last updated:

Tue, 15 Dec 2009 13:01:08 GMT on --

enabled: 91, disabled: 6, total: 97

List of Extensions

 Aardvark,  
 Adblock, [disabled] 
 Add to Search Bar,  
 Addictive Typing Lessons, [disabled] 
 Autohide,  
 Cache View,  
 CacheViewer,  
 Chrome List,  
 ColorZilla,  
 Context Highlight,  
 Copy All Urls,  
 Copy Links,  
 Copy URL +,  
 CSSViewer,  
 CustomizeGoogle,  
 Dafizilla Table2Clipboard,  
 DictionarySearch,  
 Document Map,  
 DOM Inspector,  
 Duplicate Tab,  
 EditCSS,  
 Extended Cookie Manager,  
 Extended Copy Menu,  
 Extended Link Properties,  
 Extension Manager Extended,  
 Firefox Search Sidebar,  
 FormFox,  
 Gmail Space,  
 Go Parent Folder,  
 Grab and Drag,  
 Greasemonkey,  
 HistProp,  
 How'd I Get Here, [disabled] 
 Image Zoom,  
 In The News,  
 InfoLister,  
 InspectorWidget,  
 InspectThis,  
 keyconfig,  
 keywordManager,  
 Launchy,  
 Line Marker,  
 LinkChecker,  
 Linkification,  
 LinkVisitor,  
 Linky,  
 Location Navigator,  
 Longdesc,  
 Manage Folders,  
 mediaplayerconnectivity,  
 Menu Editor,  
 Microsoft .NET Framework Assistant,  
 MouseZoom,  
 Multiple Tab Handler,  
 New Tab Button,  
 NextPlease,  
 Nightly Tester Tools,  
 oldbar,  
 Open Long Url,  
 Open Profile Folder,  
 OpenBook,  
 PageDiff,  
 PermaTabs Mod,  
 Platypus,  
 Prefsearch, [disabled] 
 QuickRestart,  
 QuoteURLText,  
 Read Easily,  
 Redirect Remover,  
 Regular Expressions Tester,  
 Remove Cookie(s) for Site,  
 repagination,  
 Research Word,  
 Resizeable Textarea,  
 Save Complete,  
 Screengrab,  
 Show Parent Folder,  
 SortPlaces,  
 SpellCheck,  
 Split Browser,  
 SQLite Manager,  
 Stylish,  
 Stylish-Custom,  
 Tab Clicking Options,  
 Tab Counter,  
 Tab History To Tabs,  
 TableTools,  
 Throbber Button, [disabled] 
 Toggle Word Wrap,  
 UrlParams,  
 userChrome.js,  
 Video Download,  
 View Dependencies,  
 View formatted source,  
 Web Developer,  
 Wikalong, [disabled] 
 Work Offline,