---
Firefox 4 eliminated the "Status bar" forcing addons that went there into the new "Addons Bar". This document helps with the transition using the "Status-4-Evar" Firefox addon.
---
Status-4-Evar Addon Bar Customization
Extension Table description of Status-4-Evar as seen in Firefox Customizations (Notes)
  Extension (#ext)
 version
 Author
 Description Important information about addons.mozilla.org ►
Status-4-Evar Needed with Firefox 4.0
2010.10.08.16
(18KB)
Sparky Bluefang
a collection toolbar widgets that provide replacements for what was previously in the status bar. After installing the extension, you can customize your toolbars and drag the "Status Text", "Progress Meter", and "Download Status" items wherever you want. [options][customize],
Keyboard shortcut: (see Keyboard shortcuts)
The only good thing that came out of this for the UI is that there is now a keyboard shortcut ("Ctrl+/") to toggle Status/Addons Bar on/off.
Customize -- View (Alt+V) → Toolbars → Customize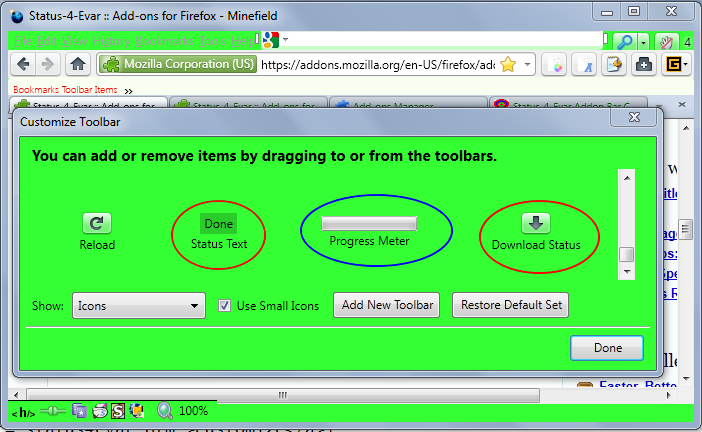 Customize (continued)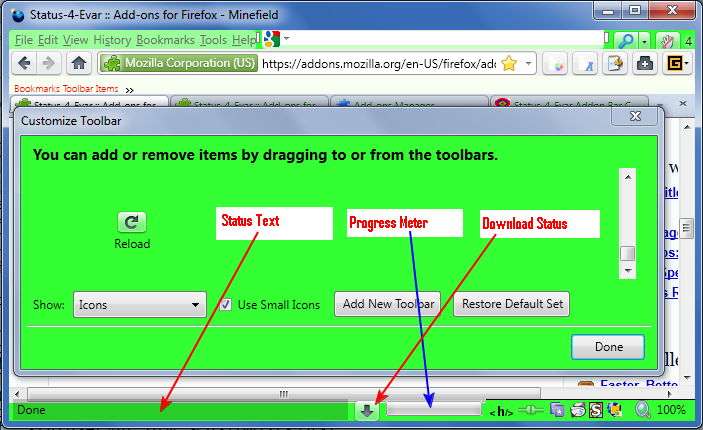 Result after customization


Options set in Tools → Add-ons → Extensions → Status-4-Evar (options)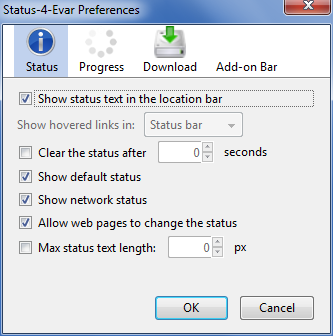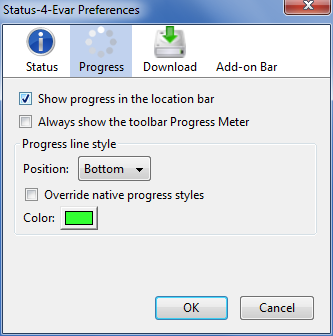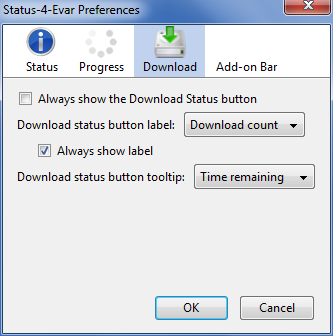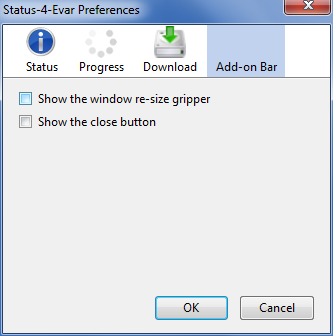 Options shown reflect choices in Status-4-Evar 2011.01.17.02.3:
Seems to make no difference whether "Show status text in the location bar is checked or not" -- but isn't it the purpose to show this text. Marking as checked just in case it does make a difference.
Uncheck "Always show the toolbar Progress Meter"; otherwise, empty hole, and hovered links will be truncated before the progress metering box.
---

Current status as reported in Compatibility Reporter.
2011.01.17.02 (2011-01-28) -- still works on on 4.0b10 but same version fails on on 4.0b11pre so the problems are Firefox -- it is in 4.0b11pre that the extension started failing and still broken on the 29th by no longer showing status text for anything (hovering links).
---